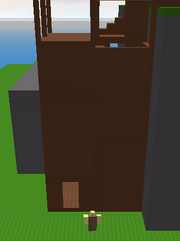 Stranded Episode: One what exactly is it?​​
Edit
Stranded: Episode: One is a survival game, in which you survive. But there is more to this game then just that. Not only do you try your hand at survival, you can do much, much more. For one, you can be the leader of a tribe. You and your tribe can build on your own island and have fun. Also you can take up many different jobs like being a merchant, baker, blacksmith, architect, and many more other jobs. In this game you can do almost anything, but it's all up to your imagination. When you start, you don't have a job, but you can make your own job. Also, it may be hard but we made it hard for you to be able to see what your survival skills are, and we want you to see how strong you are and how much you can hand. Stranded is a game of hope and fear. If you can overcome your fear and gain hope you are set off to this game; you will be the best. In this game, you can build big castles and huge cities, and you can become what you always wanted. Be a pirate and rule the world with your huge ship robbing everyone, be an baker selling bread to all your fellow friends, or even be a blacksmith and make tons of sword's and all kinds of weapons and pick's. In this game you can do whatever it takes. This is Stranded: Episode one!
Ad blocker interference detected!
Wikia is a free-to-use site that makes money from advertising. We have a modified experience for viewers using ad blockers

Wikia is not accessible if you've made further modifications. Remove the custom ad blocker rule(s) and the page will load as expected.